Czorsztyn Mountain Eden Apartments are beautiful and comfortable interiors of a high standard, located in a charming, peaceful area of ​​the Czorsztyn Castle. They are located next to the Czorsztyn Lake, near the wonderful mountain trails and Czorsztyn ski runs. Thanks to this unique location, our apartments with a view of the Tatra Mountains ensure closeness to nature and plenty of attractions for active people: during winter break, skiing in the mountains, and during summer - hiking holidays in Pieniny. We are aware that in today's busy life our guests dream of a peaceful and undisturbed rest. Therefore, we make every effort to meet the expectations of everyone who visits our apartments Czorsztyn Mountain Eden. To do this, we have prepared a number of amenities that will make your stay in our apartments a pleasant and unforgettable one. Each of the available apartments has a comfortably furnished living room with a fully equipped kitchenette, a separate bedroom and a spacious terrace with a beautiful view of the Czorsztyn Lake, the Tatra Mountains and the ruins of the Czorsztyn Castle.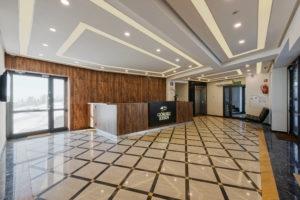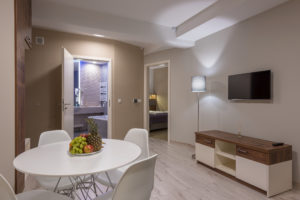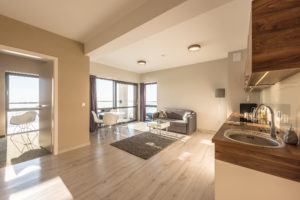 In addition, guests of the Czorsztyn Mountain Eden Apartments near Szczawnica can enjoy free Wi-Fi throughout the property. We have also provided parking in front of the building and monitored parking spaces in the underground garage for an additional fee. The spacious staircase and elevator, as part of shared use, make the building accessible to disabled people. The Mountain Eden facility in Czorsztyn near Szczawnica is fenced and monitored.
Our youngest guests can enjoy a wonderfully equipped and safe playground located in the garden.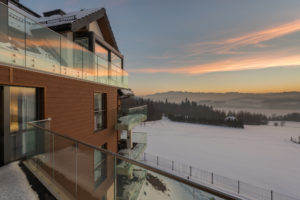 We want our guests to relax surrounded by beautiful nature and comfort. Therefore, both the residential premises and the entire architecture of the Czorsztyn Mountain Eden apartments near Szczawnica has been planned in such a way as to ensure a large dose of luxury and a sense of contact with nature.
The whole building of the Czorsztyn Mountain Eden apartments near Szczawnica is on one hand in harmony with the climate of the local Czorsztyn buildings, on the other hand the highest quality finishing elements such as stone, glass or aluminum give it a modern and contemporary character.
Our apartments in Czorsztyn near Szczawnica are a sensational choice for all who love to relax in the mountains in both winter and summer. Beautiful apartments with a view of the Tatra Mountains provide relaxation and rest surrounded by nature.
Are you considering apartments in Szczawnica, Krynica or Zakopane? We invite you to our facility in Czorsztyn, which is located only 12 km from Szczawnica near the famous Wdżar mountain. You will definitely rest here in Czorsztyn, not in Szczawnica, Zakopane, or Krynica.